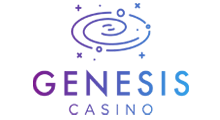 Genesis Casino took its first flight into the exosphere in 2018 and quickly established itself among the best Casino Space programs in the universe. They say in space, no one can hear you scream, but Genesis' Customer Support certainly can. They'll aid you with a range of queries and issues of all kinds wherever in the galaxy you are. Space travel is full of risk but deposits and withdrawals with Genesis most certainly aren't. Up to date security technology ensures fast and secure transactions every time to help you blast off into the fun part without worry. Explore a stargate of great games from Slots to Live Casino and Table games using well-maintained randomization algorithms to ensure the fun stays fair.
The theme of Genesis, of course, is somewhat interstellar; Genesis is really playing on this theme by saying that their selection of games is almost as big as the universe itself and that their withdrawals are sent at "warp speed" so that you get your money sooner.
This somewhat cringey intergalactic theme aside, is Genesis actually any good?
Naturally, you may feel somewhat hesitant to play at Genesis given that they are a brand-new casino. That's understandable but you shouldn't underestimate the underdog… it just might surprise you.
In this brief review, we are going to have a quick look at Genesis and decide whether they are worth exploring further.