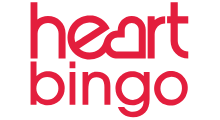 People from all over the UK adore the Heart radio network, a radio network founded in 1994 that now operates 33 local stations all throughout the country. Sixteen years later, in 2010, Heart launched their online bingo service and the company has gone from strength-to-strength since this time, growing it to one of the biggest and most popular bingo sites going.
So far as we are concerned, Heart Bingo is one of the coolest providers going. That is, of course, our own opinion! You will have to take a look for yourself and see what you think.

We receive advertising fees from the service providers we rank below.
Advertising Disclosure